Full Time
64,080.00 USD / Year
Salary: 64,080.00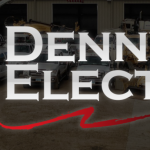 Dennys Electric
Commercial Experts
Extreme Underground, HDD is the leader in Directional Horizontal drilling and is searching for employees to join our team. We have openings for experienced Operators, Locators and   CDL drivers. You must have a current driver's license (CDL is a plus) and physically able to lift up to 80 pounds.
We offer a $1000 sign on bonus!!!!
Responsibilities
Arrive at job site on time to set up and prepare job site.
Identify existing utilities in the bore path when marked and also identify any possible utilities that are not marked.
Digging trenches, pits, and potholing manually or using mechanical equipment.
Assembly of back reaming and pull back equipment.
Restoration of disturbed ground throughout the job site.
Tear down and clean up a job site.
Following instructions for other tasks provided by the site foreman.
Qualifications
Ability to lift, carry, push, and pull up to 80 pounds.
Ability to bend, climb, squat, reach, and kneel.
Demonstrated ability to operate equipment associated with Directional Drilling.
Ability to work in all kinds of weather conditions.
Willing to work overtime.
Willing to travel.
Company Profile:
We are an Electrical Contractor specializing in residential, commercial, industrial, agricultural and service electrical servicing the surrounding area for 40 years. We are an authorized service and warranty dealer with certified technicians for Generac and Winpower generators. We also provide installation and service for home automation and security systems. Denny's Electric has been a leader in the electrical industry and is a locally owned and operated company.
Applicants can call Art Brown at 701-690-1797 for more details or apply on extremehdd.com by clicking on the careers tab.