Full Time
96000 USD / Year
Salary: 96000
MUST HAVE CDL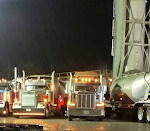 TRUE GRIT TRANSPORTATION INC
Occupation: Heavy and Tractor-Trailer Truck Drivers
Days/Hours: To be deterned
Pay: $1200.00/ 2,000 Week depends on experiance
True Grit Transportation, Inc is hiring Company Drivers for Oklahoma, West Texas, and DFW.
Duties: Drive a tractor-trailer combination or a truck with a capacity of at least 26,000 pounds Gross Vehicle Weight (GVW). May be required to unload truck.
Requirements: Requires 1 year experiance as a driver with no High School Diploma/GED required
Must have commercial drivers' license. (valid CDL-A)
SIGN ON BONUS
SAFETY BONUSES
REFERRAL BONUSES
Frac Sand – Oklahoma & West Texas
Dry Bulk Cement – DFW- Home Nightly
Belly Dumps – DFW – Home Nightly
W2 Employee, Paid Weekly
Paid Vacation
Supplemental Insurance
No felony
**IF hired contact Cleburne Workforce Solutions Office.